At EURETINA and ESCRS 2022, Heidelberg Engineering will present a new feature of its growing healthcare IT portfolio. Heidelberg AppWay, a novel gateway solution for secure data exchange, will allow seamless access to ophthalmic 'apps' that aid clinical decision making. For the launch of this workflow solution, Heidelberg Engineering has partnered with the companies RetInSight and RetinAI to provide eye care specialists with innovative AI software systems that support retinal diagnostics and therapeutic monitoring.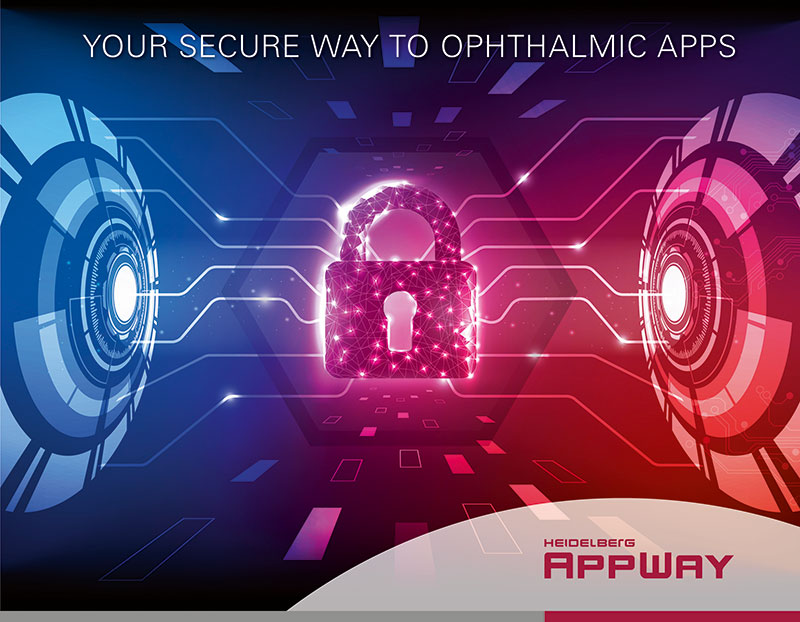 Heidelberg Engineering is expanding its healthcare IT portfolio with the introduction of Heidelberg AppWay. This latest addition to the company's ecosystem offers secure access to ophthalmic software analytics and AI-powered support systems. It will be embedded into the image management platform HEYEX 2, providing an innovative workflow solution that facilitates seamless exchange of ophthalmic image data with AI-driven analysis services to deliver additional clinical insights as well as treatment monitoring tools for enhanced patient care.
"With Heidelberg AppWay, we aim to support clinicians seeking AI-driven solutions to aid their decision making, and researchers interested in innovative analysis tools," says Krysten Williams, Global Head of Marketing and Education at Heidelberg Engineering. "The services of our app partners in combination with the powerful data of our imaging platforms will empower eye care professionals to uncover even more details of the eye."
For the launch of the novel gateway solution, Heidelberg Engineering has partnered with AI software companies to provide innovative ophthalmic apps. With Heidelberg AppWay, eye care professionals can access the RetInSight Fluid Monitor, for example. From any practice or clinic, clinicians can send routine images from their SPECTRALIS platform to the cloud service for a detailed, AI-powered analysis of disease activity and therapeutic benefit. While the patient is still on site, they receive a concise Fluid Monitor report indicating fluid type, distribution and quantity – in a completely secure, encrypted environment.
"This seamless workflow provides clinicians with easy access to fluid parameters – the most important biomarkers in the routine monitoring of patients with nAMD," says Professor Ursula Schmidt-Erfurth, Chair of the Department of Ophthalmology and Optometry at the Medical University of Vienna, Austria. She is convinced that the RetInSight Fluid Monitor in combination with Heidelberg Engineering's imaging platforms will improve the workflows of busy eye care specialists across Europe. "Availability of a fast, precise, and reliable tool will strongly improve quality and workflow in the most challenging therapeutic task in modern ophthalmology, which is the management of neovascular AMD. It will bring our ability to understand and treat disease to a substantially higher level by introducing precision into decision-making."
AI companies on the show floor at EURETINA and ESCRS
RetInSight was founded in April 2020 as a spin-off from the Department of Ophthalmology & Optometry of the Medical University of Vienna, Austria, a global pioneer in AI-based retinal image analysis and provider of reading center services for more than 15 years. RetInSight develops transformational AI solutions according to the highest standards for the most predominant retinal diseases of our time. The RetInSight Fluid Monitor is the first fluid activity meter for the monitoring of disease activity and therapeutic response in nAMD with CE certification under the new Medical Device Regulation. By precisely identifying, localizing and quantifying IRF, SRF and PED in the central 1-mm and 6-mm macular areas, Fluid Monitor supports the optimization and personalization of therapy, with the aim to improve patient outcomes and clinical efficiency. The AI-based clinical decision support system produces a concise result by mouse click, while the patient is on site
---
RetinAI Medical AG is a Swiss company developing software solutions to accelerate clinical, research and pharmaceutical workflows using advanced analytics and visualization platforms. The company has CE-marked AI applications for clinical decision support in assessing OCT volumes, measuring retinal fluid and layer segmentation, and identifying biomarkers. These tools are disease-specific for a comprehensive perspective on biomarker measures that can be monitored. Heidelberg AppWay will provide access to RetinAI's portfolio of artificial intelligence tools. Eye care professionals can send their OCT volume scans for analysis with RetinAI's AI Apps to support their diagnostic insights for eye conditions, such as Age-Related Macular Degeneration, Diabetic Retinopathy, Diabetic Macular Edema and Cystoid Macular Edema. Apps for Geographic Atrophy will be available as research use only tools.
With Heidelberg AppWay, Heidelberg Engineering aims to provide eye care professionals with a secure, simple, and seamless way to a growing portfolio of ophthalmic apps and AI analytics. The company will continue to add new app partners to the workflow solution.