Ophthalmic Education lifts off for Out-of-this-World Edition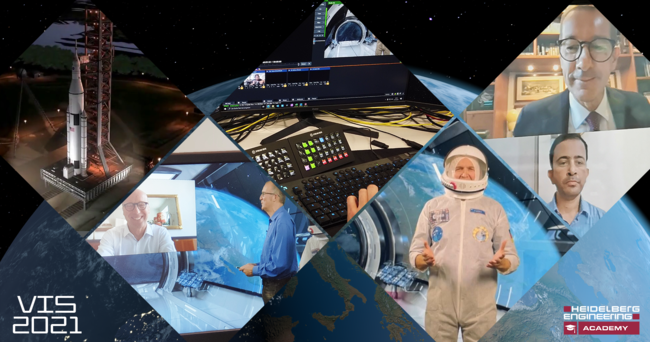 Prompted by the ongoing Covid-19 pandemic to create a virtual event for a second year in a row, the Heidelberg Engineering Academy team rose to the occasion and delivered the Virtual Imaging Symposium 2021 (VIS) on Friday, October 15 and Saturday, October 16, 2021. The ambitious two-day agenda comprised a combined total of 36 hours of scientific programming and left a stellar impression on well over 700 participants who watched the event from across the globe.
Heidelberg Engineering's second Virtual Imaging Symposium (VIS) saw Dr. Stephan Schulz, Director of the Heidelberg Engineering Academy, "being rocket-launched into space and board the International Space Station (ISS)" to host one half of the program, 18 hours of live programming on the Scientific Channel.
No worse for the wear after the – lightning-fast, safe, and virtual – transit, he introduced VIS participants to nine expert panels, assembled to present and discuss the latest scientific insights into clinical specialty areas such as anterior segment, retina diagnostics, glaucoma diagnostics, and healthcare IT.
The program featured two parallel channels with a total of 41 high-caliber presentations, delivered by a faculty of leading ophthalmologists and researchers from 13 countries. Each of the subject matter experts' lectures was followed by a moderated panel discussion.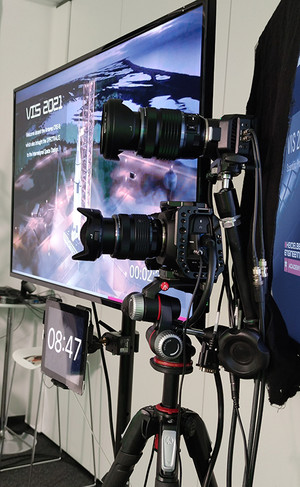 The Scientific Channel featured presentations by renowned speakers with subject matter expertise in several ophthalmology specialties such as retina diagnostics and glaucoma. Their talks provided an informative channel for virtual knowledge transfer on recent studies and clinical validations.
The other half of the program, the Workshop Channel, was moderated by Matthias Befurt, and spanned the same topic areas as the scientific channel (retina, glaucoma, anterior segment, and Healthcare IT) with 18 hours of live interactive workshops. Here, the central mission was training - both in image acquisition using the SPECTRALIS and ANTERION platforms, and in image and patient data management using HEYEX 2, HEYEX PACS and HEYEX EMR.
In order to enable attendees to benefit from learning all opportunities on a specific topic, such as glaucoma, the Academy team ensured that concurrent sessions in the two channels never covered the same topic.
The 90-minute sessions in the Workshop Channel combined 30-minute introductory lectures and live demonstrations in the Heidelberg Engineering studio or case studies. Academy clinical trainers Andreas Kasper and Grit Leuner took turns expertly guiding viewers through live demos on Heidelberg Engineering devices, with virtual assistance from colleagues from around the world: Tim Cole from the UK presented insights into the DNA of ANTERION, Martin Long related interesting cases of glaucoma patients and patients with non-glaucomatous atrophies, and Ethan Priel, leader of the ophthalmology department of the MOR Institute in Israel, shared his expertise in various retinal imaging techniques as well as valuable tips and tricks on the SPECTRALIS.
On Friday, the symposium offered additional sessions with Jennifer Sakai, HEYEX 2 application specialist from the Academy, and Geraldine Lowe, applications specialist from the Heidelberg Engineering company Medisoft in the UK, on practical user applications of HEYEX EMR.
Beyond the scheduled virtual hands-on in workshops, symposia attendees were able to contact members of the Academy Team or distribution representatives through the Virtual Stand on the Heidelberg Engineering Website.
After this virtual journey, we look to 2022 as an opportunity to reconnect, learn, and network face-to-face. Be part of next year's International Imaging Symposium (IIS) on October 14-15, 2022 in Germany's vibrant capital Berlin. Virtual seats will also be offered, stay tuned!