Experience images and data that empower at EURETINA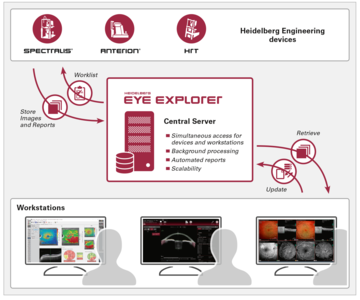 In addition to new features for the multimodal imaging platforms SPECTRALIS® and ANTERION®, during the EURETINA congress taking place 5th-8th September 2019 in Paris, we would like to introduce to you the benefits of HEIDELBERG EYE EXPLORER, our versatile healthcare IT platform for streamlined image management and device integration.
HEIDELBERG EYE EXPLORER will simplify your workflow, enhance your security, and future-proof your ophthalmology practice or clinic.
Upgrade to the next-generation healthcare IT platform
As the foundation of the HEIDELBERG EYE EXPLORER, HEYEX 2 empowers you to improve patient care by providing fast and simple access to diagnostic images, reports, and maps from all your Heidelberg Engineering devices.
Investigate the retina at the microstructural level

The new SPECTRALIS High Magnification Module (HMM) shows more microstructural detail of the ocular fundus that is possible with a standard SPECTRALIS lens by sampling with particular high density. With the new lens and software module, the SPECTRALIS platform provides the flexibility to identify a region of interest and to magnify it using the HMM to obtain high-resolution 8° x 8° infrared reflectance images.


Benefit from new glaucoma deviation maps
The new deviation map feature of the SPECTRALIS Glaucoma Module Premium Edition (GMPE) lets you visualize structural loss at a glance. Comparison of thickness measurements with the reference database enhances the diagnostic value of thickness maps.