Uncover more with Heidelberg Engineering at ARVO 2021
From its inception in 1990, Heidelberg Engineering has collaborated with international scientists, clinicians, and industry to develop innovative products that deliver clinically relevant benefits.
Find out about our contribution to scientific research in ophthalmology by navigating through our research timeline.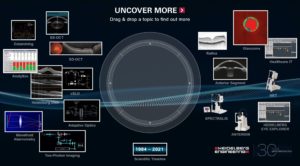 Research topics now trending
Every year the Association for Research in Vision and Ophthalmology (ARVO) gives us the opportunity to glimpse the future and engage with scientific researchers from around the world to address the most challenging questions in ophthalmology. Starting with the Xtreme Research Award winner from 2019, here are some of the favorite research topics identified by our team as particularly thought-provoking or promising in the run up to ARVO 2021. Uncover more science!
In vivo cellular imaging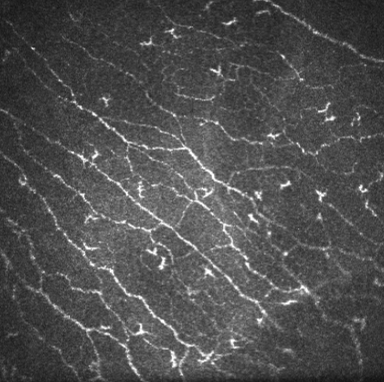 Confocal scanning laser microscopy serves as unique technology to produce high-resolution in vivo images of the cornea and external ocular structures. Corneal microscopes – such as the HRT3 RCM – make use of this technology, scanning the cornea with a field of view up to 400 x 400 μm. This allows to image corneal layers at the cellular level, identify keratocytes subpopulations, and visualize details of the corneal subbasal nerve plexus. The in vivo assessment of anterior segment structures can aid in the diagnosis and monitoring of corneal abnormalities, pre- and post-surgery evaluation, the assessment of dry eye disease, and in the analysis of corneal nerve structure in diabetic patients.
A recent publication illustrates the use of confocal microscopy in the context of artificial intelligence for the evaluation of nerve loss in the cornea, while a further interesting publication addresses the increasingly popular topic of corneal biomechanics.
Related publications
https://doi.org/10.1097/ico.0000000000002661
McCarron ME, Weinberg RL, Izzi JM, Queen SE, Tarwater PM, Misra SL, Russakoff DB, Oakley JD, Mankowski JL. Combining In Vivo Corneal Confocal Microscopy with Deep Learning-Based Analysis Reveals Sensory Nerve Fiber Loss in Acute Simian Immunodeficiency Virus Infection. Cornea. 2021 Jan 28.
https://doi.org/10.1111/opo.12768
Alvani, A, Hashemi, H, Pakravan, M, Mahbod, M, Amanzadeh, K, Seyedian, MA, Yaseri, M, Jafarzadehpur, E, & Fotouhi, A. Dynamic corneal biomechanics in different cell layers: in keratoconus and normal eyes. Ophthalmic Physiol Opt. 2020.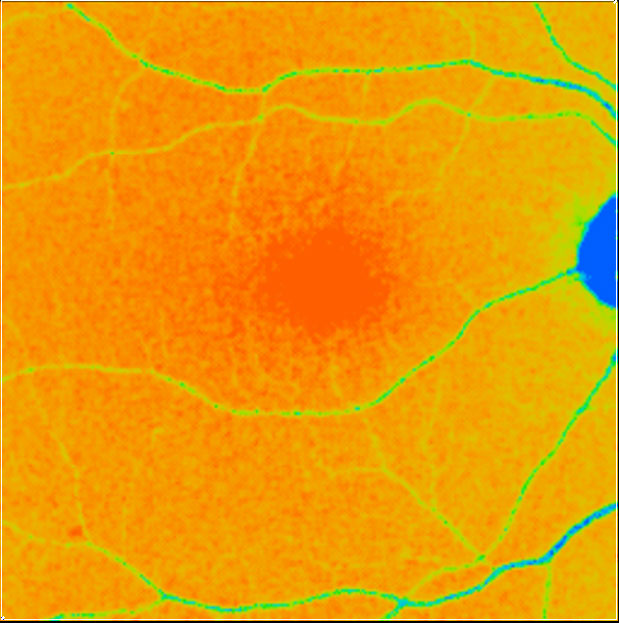 Time-dependent fluorescence imaging
Fluorescence Lifetime Imaging Ophthalmoscopy (FLIO) is an experimental non-invasive imaging modality that provides another fluorescence dimension. In the past, the intensity or the spectrum of retinal fluorescence has been explored. But with FLIO, researchers are able to observe the time dependency of the intrinsic fluorescence of the retina. This possibility adds a new dimension to the images, which can lead to the observation of retinal metabolism preceding structural changes.
Recent studies show that for many retinal pathologies, such as AMD, Stargardt's disease or MacTel type 2, FLIO may show distinct patterns for either better staging of disease progression or even indicating earliest changes.
Related Publications
https://doi.org/10.1016/j.preteyeres.2017.06.005
Dysli, C., S. Wolf, M. Y. Berezin, L. Sauer, M. Hammer and M. S. Zinkernagel (2017). "Fluorescence lifetime imaging ophthalmoscopy." Prog Retin Eye Res.
https://doi.org/10.1038/s41433-020-01287-y
Sauer, L., Vitale, A.S., Modersitzki, N.K. et al. Fluorescence lifetime imaging ophthalmoscopy: autofluorescence imaging and beyond. Eye 35, 93–109 (2021)