The Heidelberg Engineering team is looking forward to showcasing its innovative solutions at this year's ARVO congress in New Orleans, Louisiana, USA, from April 23-27, 2023. At its booth (#1119), it will present research technologies covering a wide range of applications – from glaucoma research and retina diagnostics to cellular and metabolic imaging, and access to AI-based diagnostic support.
Visotec GmbH has joined the Heidelberg Engineering family and adds full-field technology (FF-OCT) to the company's current spectrum of OCT technologies: spectral domain OCT (powering SPECTRALIS® for retinal imaging) and swept-source OCT (powering ANTERION® for anterior sector imaging). Visotec's technology acquires 2D en face views which can then be assembled into B-scans of the retinal layers and colocalized with reference images acquired with the SPECTRALIS to ensure accurate follow-up of disease progression. Visotec's proprietary OCT technology may be integrated into the secure data sharing environment of the HEIDELBERG EYE EXPLORER platform and offers tremendous potential in the field of distributed care.

The
DICOM
standard (Digital Imaging and Communications in Medicine) adopted globally
to store, exchange, and transmit medical images
is at the heart of
HEYEX 2
, the company's next-generation device management and integration solution, supporting the workflow needs of researchers and clinicians with a new multi-modality viewer.
Secure access to AI – The future of informed diagnostics and treatment decisions
DICOM is also the basis of interoperability for Heidelberg AppWay, Heidelberg Engineering's secure gateway to both clinical and research applications. Utilizing cloud exchange technology within HEYEX 2, this novel workflow solution allows users to select and access analytics for diagnostic insights from multiple third-party SaaS providers – safely, securely, and seamlessly. In addition to HEYEX 2 with Heidelberg AppWay, HEYEX EMR (a solution for electronic medical records) captures the structured data required to support analysis of large data sets providing valuable insight into improving patient outcomes.
In response to the recent FDA approval of intravitreal pegcetacoplan (SYFOVRE; Apellis) to treat geographic atrophy (GA) and age-related macular degeneration (AMD), Heidelberg Engineering will demonstrate a multimodal workflow solution combining autofluorescence imaging, high-resolution OCT, MultiColor, near-infrared imaging, and seamless access to AI research applications for geographic atrophy.
Innovations in retinal imaging and glaucoma research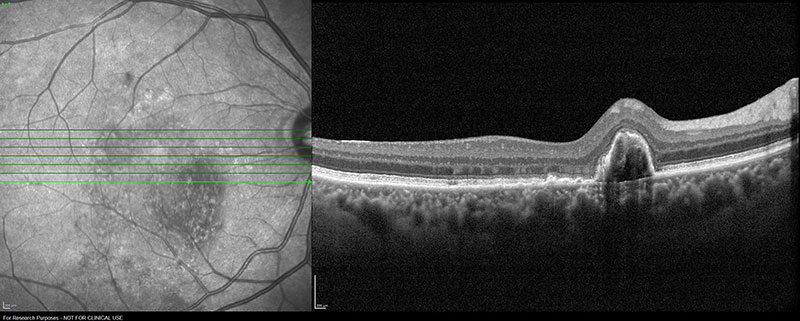 Heidelberg Engineering has a strong background of developing imaging solutions that support advancements in ophthalmic science and lead to tangible benefits in clinical diagnostics and patient care. Delegates can learn more about high-resolution structural and vascular OCT imaging, Fluorescence Lifetime Imaging Ophthalmoscopy (FLIO), an imaging modality used to measure lifetime changes in endogenous fluorophores in the retina, as well as novel applications for imaging patients in a supine position. Team members will also share updates about the ongoing data collection of the Glaucoma / Myopia OCT Phenotyping Consortium (GMOPC), a global, multi-site research effort into phenotyping glaucoma.
Advancing research in anterior segment diagnostics
In addition to the ANTERION Imaging App released in the USA in 2022, recently added features to the Cornea and Metrics Apps* have expanded the ANTERION to a true all-in-one anterior segment solution whose anterior chamber and biometry data also supports the mission of the GMOPC. The latest software facilitates epithelial thickness measurements, intuitive tools for the assessment of corneal ectasia, and automatic anterior chamber measurements.
Heidelberg Engineering will also host an award presentation for the winner of the Heidelberg Engineering Xtreme Research Award on Monday, April 24. The award recognizes aspiring researchers and honors their outstanding projects and advancements to ophthalmic research.
Uncover more of the company's contributions to science and explore research highlights that involve its technologies at: www.heidelbergengineering.com/int/HEscience
*Many of the technologies presented at ARVO are for research only and are not available for clinical use.