Study shows time savings of close to 25% with SPECTRALIS OCT2 Module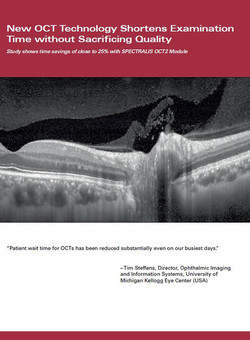 When it comes to clinical workflow, the rate at which patients move through the clinic from arrival to exit is a key factor in determining both the quality of the patient experience and the financial efficiency of the practice.

To evaluate the workflow impact of upgrading their SPECTRALIS SD-OCT from the standard OCT hardware to the new OCT2 technology, the University of Michigan Kellogg Eye Center in Ann Arbor (USA) conducted a study to compare the time required for patient exams utilizing the existing OCT technology to the time required with the same model SPECTRALIS upgraded with the OCT2 Module.

What they found was a significant effect on patient wait time and throughput - a nearly 25% reduction in exam time! Find out how they did it by downloading the full article.
SPECTRALIS OCT2 Module
The OCT2 Module brings the next generation of OCT technology to the SPECTRALIS® diagnostic imaging platform. It combines a high scan rate of 85,000 Hz with the TruTrack Active Eye Tracking developed exclusively by Heidelberg Engineering to provide excellent image quality and significantly improved acquisition speed.