Journal Article Review – Identifying features of early and late AMD: A comparison of MultiColor versus traditional color fundus photography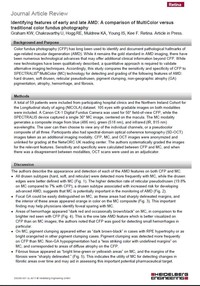 It is commonly known: Age-related macular degeneration (AMD) can lead to vision loss and even blindness, so early diagnosis and treatment are essential. Additional clinical information beyond color fundus photography can be advantageous when detecting and grading different features of AMD.
The Heidelberg Engineering MultiColor Module available on the SPECTRALIS® imaging platform offers you an innovative technology for fundus imaging with structural detail and clarity not available from traditional color fundus photography. Find out the details provided in this new study.

Download Article
(Business Lounge login required)

Please find other Journal Article Reviews here.