Journal Article Review – Clinical features and long-term progression of reticular pseudodrusen in age-related macular degeneration: findings from a multicenter cohort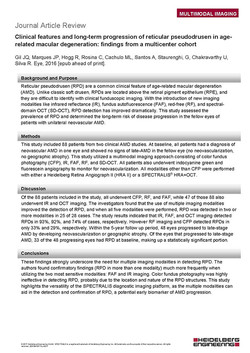 Reticular pseudodrusen may represent a significant risk factor for AMD progression, but they can be difficult to identify with fundus photography alone. Read more to discover how a multimodal imaging approach greatly increased detection rates of these deposits, and how these techniques might impact your clinical assessment of AMD.
The versatile SPECTRALIS multimodal imaging platform offers you valuable diagnostic tools to support a sound clinical assessment of several retinal pathologies.
Please find other Journal Article Reviews here.
(Login required)