Heidelberg Engineering Academy Holds First SPECTRALIS Training Course at US Headquarters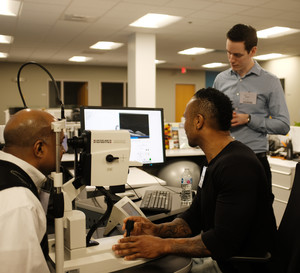 The Heidelberg Engineering Academy is comprised of a team of skilled Clinical Application Specialists from across the country. The Academy team provides comprehensive training and continuing education courses for all levels of users on Heidelberg Engineering's state-of-the-art diagnostic imaging technologies for eye care professionals. Its goal is to help ophthalmic and optometric practices integrate imaging technologies into their daily workflow and increase clinical confidence by providing users with the skills to capture and interpret high quality diagnostic images easily and consistently.
"Heidelberg Engineering has always been a strong believer in education," said Carolyn Evangelista, Manager of Clinical Education in the US. "The Heidelberg Engineering Academy was first established in Germany over 15 years ago, and we are excited to now bring comprehensive educational programs to our customers here in the United States."
The attendees of Saturday's SPECTRALIS Hands-On Operator Course included clinicians, photographers, and technicians representing seven states from as far away as South Dakota. The SPECTRALIS Hands-On Operator course provided comprehensive training on the SPECTRALIS imaging platform to help optimize the system's performance within the clinic. The program included educational presentations and hands-on imaging guidance.
"The opportunity for 'hands-on' during the practical workshops was a perfect complement to the lectures," noted attendee Robert Cavicchi, Senior Ophthalmic Imaging Specialist at Joslin Diabetes Center in Boston.
In addition to its courses, the Academy team develops a wide range of educational tools for users, from quick tips to interpretation guides to clinical case studies. They will also work with clinicians to present OCT Live case studies and master classes to audiences throughout the country.
Upcoming Courses in 2018
Additional courses are planned for 2018 in cities across the US including the US headquarters in Franklin, MA. For a complete listing of course offerings, visit www.he-academy.com.