Healio OSN Video Perspective: Virtual Reality nGoggle Technology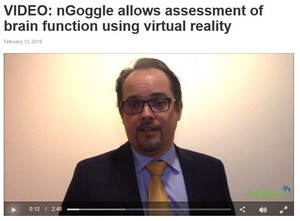 During the Glaucoma 360: New Horizons Forum, Dr. Felipe Medeiros (Duke University) discussed the development of nGoggle*, a novel device that merges virtual reality goggle technology with electroencephalogram technology to help assess visual function.
Dr. Medeiros also spoke about his reliance on the Heidelberg Engineering SPECTRALIS OCT in his clinical practice to provide reproducible measurements and an objective assessment of changes to vision over time.
Held in San Francisco, California, The Glaucoma 360: New Horizons Forum is dedicated to bringing clinicians, scientists, industry executives, venture capitalists and the FDA together discuss new ideas to improve glaucoma diagnostics and therapies.
Watch video about SPECTRALIS OCT in clinical practice
Find out more about the SPECTRALIS Glaucoma Module Premium Edition
*nGoggle Inc.is based in San Diego, CA and is not affiliated with Heidelberg Engineering.