Chancellor inaugurates research building at German Center for Neurodegenerative Diseases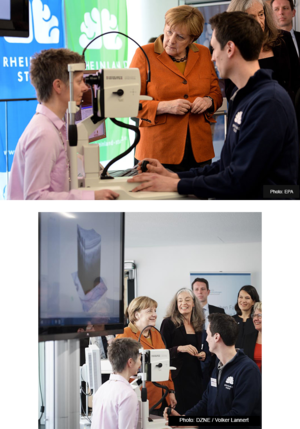 While attending the official opening ceremony of a new building at the German Center for Neurodegenerative Diseases in Bonn, Ms. Angela Merkel had the opportunity to learn more about the Rhineland Study. The Rhineland Study is a prospective population study being conducted by this research center. Several Heidelberg Engineering devices are being used for the study.
The Rhineland Study is one of the largest and most innovative health studies worldwide. It is being conducted by the German Center for Neurodegenerative Diseases (Deutsches Zentrum für Neurodegenerative Erkrankungen, DZNE) and funded by the German Federal Ministry of Education and Research and the state of North Rhine-Westphalia. The study is investigating which protective factors and risk factors influence the health of adults throughout their lifetimes until old age. The interplay of hereditary factors, lifestyle, and environmental influences, and their impact on people's health, is being studied in up to 30,000 participants over several decades. The goal of the research team led by Prof. Breteler, who designed the study and is directing it, is to discover the causes of diseases and to allow for early detection, so disease prevention can be individualized.
At the Rhineland Study's research sites, several SPECTRALIS imaging platforms and Heidelberg Edge Perimeters (HEP) are being used to examine the retina and the optic nerve head, and to conduct visual field examinations respectively.
Neuronal changes to the optic nerve head are being quantified with an analysis of the neuroretinal rim, in the same way rim measurements are taken using the SPECTRALIS Glaucoma Module Premium Edition. In the next step, the results are being classified using the Nsite Analytics Module, which was developed in cooperation with neurological centers. The macula is being examined systematically using multimodal imaging. In addition to the OCT examination, MultiColor, BluePeak autofluorescence, and infrared fundus images are acquired.
Heidelberg Engineering is planning a collaboration with the director of the Rhineland Study, Prof. Breteler, her team, and with partners of the ophthalmology clinic and the Department of Informatics at the University of Bonn. The goal of the collaboration is to develop methods for analyzing multimodal image information and its correlation to the comprehensive data being collected in the Rhineland Study.