RCOphth Annual Congress
-
Glasgow, United Kingdom
Meet Heidelberg Engineering at RCO Congress 2019, Stand B.
Innovations
Images that Empower.

Harness the power of Spectral Domain and Swept-Source OCT to improve patient care

The SPECTRALIS® diagnostic imaging platform – a powerful combination of confocal scanning laser ophthalmoscopy (cSLO), spectral domain OCT (SD-OCT) and patented eye-tracking technology has set the standard for multimodal retinal imaging for over a decade.

Now, Heidelberg Engineering has optimised the longer wavelength and lower sensitivity roll-off of swept-source OCT for imaging the anterior segment. ANTERION®* offers topography, tomography, anterior segment metrics and axial length in one upgradeable, modular device. The stunning swept-source OCT images empower clinicians with visual confirmation of the reliability and accuracy of the measurements.

Find out more about how Heidelberg Engineering has capitalized on the strengths of each OCT technology by optimizing each for specific ocular imaging applications.

Visit us at Stand B or read more.

*The ANTERION is not available for sale in the United States.

A Whole Eye montage created using Adobe Photoshop composed of 5 images acquired using ANTERION for the anterior segment and 6 images acquired using SPECTRALIS for the posterior segment. Composite image deliberately not to scale. An imaging parody for promotional purposes only. Artist: Tim Cole, Clinical Market Development Manager, Heidelberg Engineering UK.
Resolution that Empowers.
Discover the true potential of OCT angiography.

High resolution imaging and precision eye tracking forms the basis for developing accurate analytics with real clinical value.

The SPECTRALIS OCT Angiography Module delivers high-resolution OCTA images with a lateral resolution of 5.7 μm/pix. Combined with the precision of TruTrack Active Eye Tracking, the OCTA Module enables fine capillary networks to be visualized in great detail.

The axial resolution of 3.9 μm/pix allows for segmentation of all four histologically-validated retinal vascular plexuses. Custom slabs within the superficial and deep vascular plexuses offer a more comprehensive clinical evaluation.

The projection artifact removal (PAR) tool utilizes information from the superficial vascular plexus to remove artifacts from OCTA images. This enables a more precise visualization of vascular structure and pathology.

Non-human primate. Courtesy of Nimesh Patel, OD, PhD, University of Houston College of Optometry
SPECTRALIS High Magnification Module
Resolve microstructures and track change to gain insight into disease progression.
The SPECTRALIS High Magnification Module elegantly demonstrates the capability of confocal scanning laser ophthalmoscopy (cSLO) to resolve ocular microstructures by reducing intraocular light scattering. These ocular microstructures can even be visualized in eyes with cataracts.
The image contrast and clarity obtained by combining laser light selectivity with confocal scanning are often not available from fundus photography, highlighting critical diagnostic details not visible on ophthalmoscopy.
After a region of interest has been identified using a larger field of view, the user can acquire ~8° magnified images at an enhanced resolution to investigate the area at an even higher level of detail. This possibility may provide unique insight into the progression of certain retinal diseases.
Events
7th Annual Heidelberg Engineering Academy Masterclass
Go Beyond with SPECTRALIS
This year's Masterclass will explore new frontiers in diagnostic imaging including challenging the imaging definitions of diabetic retinopathy with multimodal imaging and how quantitative imaging of inflammatory eye disease will improve patient care. In addition to this, a lecture on space flight-associated neuro-ocular syndrome (SANS) will be delivered by a special guest speaker.
The Masterclass will be held at the Crowne Plaza Glasgow, which is directly adjacent to the SEC Centre where the Royal College of Ophthalmologists Congress will be taking place.
Date: Wednesday 22th May 2019, 5:30 p.m. - 8:30 p.m.
Location: Crowne Plaza Glasgow, Congress Road, Glasgow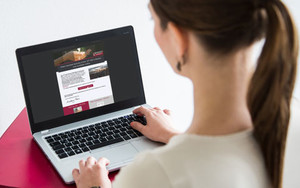 Keep yourself up to date!
Stay up-to-date on the latest SPECTRALIS updates and new product offerings, educational seminars and e-Learning tutorials with the Heidelberg Engineering e-Newsletter.