Latin America and Spain Imaging Symposium (LASIS) 2021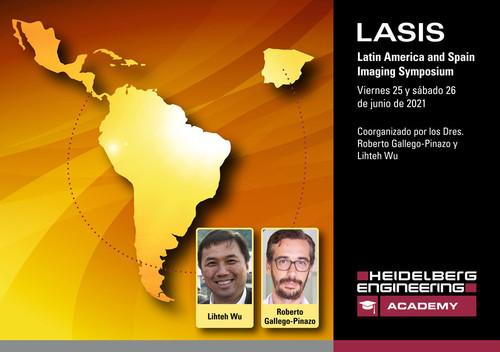 Welcome to the first LASIS, a new Heidelberg Engineering Academy imaging symposium completely in Spanish. In this first virtual LASIS you can attend interesting retina, anterior segment and glaucoma clinical case presentations and take part in lively Q&A sessions and interactive quizzes.
Be part of this free-of-charge debut, organized by the Heidelberg Engineering Academy and co-chaired by Dr. Roberto Gallego-Pinazo (Spain) and Dr Lihteh Wu (Costa Rica).
Day 1: RETINA – Friday, June 25, 2021 (17:00 - 20:15 CEST)

Day 2: ANTERIOR SEGMENT & GLAUCOMA – Saturday, June 26, 2021 (16:45 - 20:35 CEST)
Scientific Comittee

RETINA
Dr. José Gerardo García Aguirre (Mexico) ● Dr. Arturo Alezzandrini (Argentina) ● Dr. Javier Montero (Spain) ● Dr. Jose Antonio Roca (Peru) ● Dr. André Maia (Brasil) ● Dr. Iván Sepúlveda (Chile) ● Dr. Jans Fromow-Guerra (Mexico) ● Dr. Jorge Gómez Silva (Colombia)
SEGMENTO ANTERIOR
Dr. Arturo Chayet (Mexico) ● Dr. Pedro Tañá Rivero (Spain) ● Dr. Ramón Ruiz Mesa (Spain) ● Dr. Robert Kaufer (Argentina) ● Dr. Luis Escaf (Colombia)
GLAUCOMA
Dr. Alberto Diniz-Filho (Brasil) ● Dr. José Francisco Ortega Santana (Mexico) ● Dr. Tomas Grippo (Argentina) ● Dr. Eugenio Maul Fonseca (Chile) ● Dr. Aritz Urkola (Spain)
Scientific Program
Program Day 1 (Friday, June 25, 2021 (17:00 - 20:15 CEST), all in Spanish)
RETINA
17.00-17.15

BIENVENIDA
Stephan Schulz / Brian Fernandez

17.15-17.30
Malformación venosa retiniana
Dr. Carlos Vargas Riaño, México
17.30-17.45
OCT y metástasis
Dr. Pablo Chamartin, Argentina
17.45-18.00
¿Puede la OCT salvar vidas?
Dr. Miguel Ortiz Salvador, España
18.00-18.15
Hiporeflectividad coroidea
Dra. Nathaly Huamán, Perútd
18.15-18.30
Concurso interactivo
Presentado por el Dr. Roberto Gallego-Pinazo y el Dr. Lihteh Wu
18.30-19.00
Pausa
19.00-19.15
Syphilis with some special features
Dr. Caio Franco Silveira, Brasil
19.15-19.30
Corioretinopatia central serosa atípica
Dr Rodrigo Candia, Chile
19.30-19.45
Comportamientos diferenciales en NVC por DMRE en pacientes tratados con terapia antiangiogénica demostradas por OCTA
Dr. Heber Garagarza, México
19.45-20.00
Creatividad multimodal en presentaciones atípicas
Dra. Carolina León, Colombia
20.00-20.15
Concurso interactivo
Presentado por el Dr. Roberto Gallego-Pinazo y el Dr. Lihteh Wu
Program Day 2 (Saturday, June 26, 2021 (16:45 - 20:35 CEST), all in Spanish)
GLAUCOMA
16.45-17.00
BIENVENIDA
Stephan Schulz / Brian Fernandez
17.00-17.15
Bloqueo pupilar posterior a recambio de lente Intraocular pseudofaquico de cámara posterior
Dra. Andrea Montero, México
17.15-17.30
Concordancia entre un OCT intraoperativo y dos biómetros OCT swept-source
Dra. Lola Rodríguez Carrillo, España
17.30-17.45
¿Podría sustituir el dispositivo ANTERION al tomógrafo Pentacam?
Dra. Julia Blanch Ruiz, España
17.45-18.00
Lente fáquico de apoyo angular y glaucoma por bloqueo angular agudo
Dr. Sebastián Suárez Anzorena, Argentina
18.00-18.15
Glaucoma facomorfico
Dr. Rafael Vanegas, Colombia
18.15-18.30
Concurso interactivo
Presentado por el Dr. Roberto Gallego-Pinazo y el Dr. Lihteh Wu
18.30-19.00
Pausa
GLAUCOMA
19.00-19.15
Mapping the structure-function relationship in glaucoma
Dra. Patricia Copat, Brazil
19.15-19.30
Utilidad del SPECTRALIS OCT en la toma de decisiones diagnósticas en glaucoma
Dra. Lucía Delgadillo Ricaud, México
19.30-19.45
Engrosamiento de la capa de fibras nerviosas de la retina medido por OCT como un signo temprano de una obstrucción de la vena central en un paciente con glaucoma
Dra. Carla Salina Indovino, Argentina
19.45-20.00
Glaucoma de tensión normal y retinosquisis macular
Dra. Lorena Mosso, Chile
20.00-20.15
Glaucoma con progresión acelerada durante la pandemia
Dra. Marta Urbano, España
20.15-20.30
Concurso interactivo
Presentado por el Dr. Roberto Gallego-Pinazo y el Dr. Lihteh Wu
20.30-20.35
CLAUSURA